Gear Cutting, Shaping & Hobbing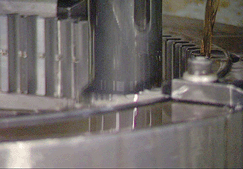 Snyder Industries houses a complete gear shaping facility. Gear shaping machines cut internal and external gear diameters from 2 to 48 inches.
At Snyder Industries we strive to maintain our position at the top of the industrial machining industry via consistently adding modern technologies to our facility.
Capacities, Phauter Hob:
1. Max D.P. that can be hobbed
a) spur and helical gears 3
2. Straight spur gears and worm gears
a) max workpiece dia. 35.5″
b) max hobbing length 22.8″
(max hob slide travel)
3. Helical gears (with hob dia. = 6 in.)
a) max workpiece dia. 35.5″
b) max hobbing length 22.8″
4. Smallest number of teeth to be hobbed
a) machine with single start index drive 8
Capacities, Fellows Shaper:
Model 36-6 Model 36-12
1. Max Pitch Diameter
a) external 40″ 40″
b) internal 36″ 36″
2. Max D.P., Spur 2 2
3. Max Face width, Ext. and Int. 6″ 12″
4. Max Helix Angle w/ standard guides 45 deg 45 deg
5. Max Outside diameter of fixture 40″ 40″