Gear Cutting, Shaping, & Hobbing
Snyder Gear changed its name to Snyder Industries in 1990. Since this time, they have not stopped adding and improving the gear capabilities. As technology improved, capital investments has kept Snyder ahead in the gearing market. Through the years many investments have been made in CNC gear shaping and hobbing to improve quality and production times for large ring gears.
Four (4) manual Fellows shapers are still in the plant that can be used when needed.
Hobs
Two (2) CNC Gleason Gear Hobs and three (3) Barber Coleman horizontal Hob machines help with additional gear capacity for rings gears and splined shafts.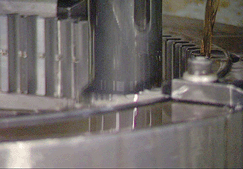 Tool Sharpening

Snyder has invested in two (2) cutting tool grinder machines to help with sharpening tools for the gear shop and also throughout the plant. The Star PTG1 and Schneeberger Aries NGP are in a cell to assist any sharpening needs for the floor. This has been extremely helpful with turn-around time and keeping key machines operational.
Snyder's CMM's are capable of running gear charts on machined gear to ensure specifications are met. See CMM Inspection for more information.
After gear cutting, parts can be moved to their in-house heat treating facility to induction harden the machined teeth. See Heat Treating for more information.