About Snyder Industries Inc.
Manufactures of Original Equipment and Aftermarket Parts for above and underground mining machinery, construction, and heavy earth moving equipment.

Company Profile and Brief History
In 1970, Wayne J. Snyder founded W.J. Snyder Manufacturing in a rented 2,000 sq. foot facility. They supplied their clients with packing glands, rollers, and other miscellaneous machined parts. The W.J. Snyder Manufacturing Company developed a reputation for manufacturing as a reliable source of machined parts with a knack for solving unique machining challenges. This approach led to the introduction of Snyder as a Supplier of wheel units and internal gears for the mining and machining industry.
W.J Snyder Manufacturing was incorporated in North Tonawanda, New York in 1972. Since that time, the company has been a quality-oriented contracted supplier of machined components for the heavy equipment industry.
Snyder Industries has always striven for continuous improvement. In 1978, they purchased and installed the first CNC machine tool in Western New York. In 1993, the continual growth trend resulted in the addition of a 30,000 square foot state of the art heat treat facility.
In 1980, the name of W.J. Snyder Manufacturing was changed to Snyder Gear to accurately reflect the core competency in the manufacturing of gears. 10 years later, Snyder Gear became Snyder Industries as it has evolved into a multi-dimensional manufacturer of precision machining components.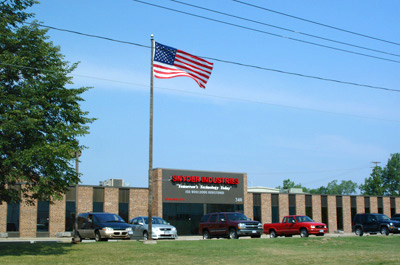 In 2006 it was again time to expand. A building was purchased with 110,000 square feet of manufacturing and 15,000 square feet of office floor space. With 50 foot ceiling heights, complete loading and shipping docks, and high-tech internal communication network, the new facility has allowed Snyder to consolidate all manufacturing processes into one building and continue expansion efforts.
In 2013, Snyder Industries purchased an additional 30,000 square foot facility on the same property that is currently used for raw material storage and organization. Snyder Industries currently has about 200,000 square feet of manufacturing space under newly replaced roofing (2018).
Today the company enjoys a strong relationship with its customers worldwide, and is dedicated to taking a proactive approach to the preservation of these partnerships.